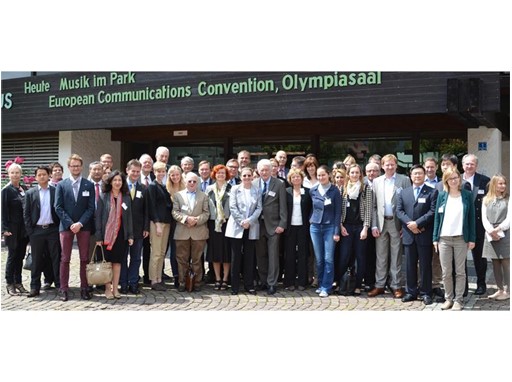 ­­Between 19th and 21st June 2014 the first European Communications Convention (ECC) took place in Munich, Garmisch-Partenkirchen and Ettal Abbey. During this international communications event Communications Management and Ethics, Sports PR (Olympic bids London and Sochi) and Corporate Social Responsibility practices were reviewed by international top-speakers. The unexpected "No" to the Olympic Bid of Munich represented an outstanding notch, not only for the candidate towns, but for all who wanted to and will want to align in future major sporting events in Germany. What can be learnt from such a rejection? The success would depend on more honest, transparent, and above all confidence-building communications in the future.
On June 19, the convention started in Munich with internal meetings of the partner organizations. In the late afternoon the delegates left for Garmisch-Partenkirchen, where they attended a welcome reception hosted by the mayor.
June 20 was dedicated to the congress. PR professionals of the Olympic Winter Games in Sochi 2014 and the Summer Games in London 2012 reported on their experience. In the afternoon workshops on internal and external communications management took place as well as a major review of the use of CSR to support projects in youth sport.
On June 21 the participants were invited to visit the famous Benedictine Monastery Ettal, close to Garmisch-Partenkirchen, and to continue the conference in this outstanding location. Abbot Barnabas Boegle, the host of the third day of the convention joined the discussion on ethics in the corporate world and how the lessons of St Benedict are just as relevant today as they were 1.500 years ago. By the way, the lessons of St Benedict are believed to be a first in the world of international public relations and corporate communications management.
Highlight on the last day was the ceremony to hand over the "Ettal Peace Award" for peacemaking communications. An international jury chaired by United Nations ambassador Simona Miculescu and representatives of the European Union bodies in Brussels decided for Vitali Klitchko, the mayor of Kyiv, who did an outstanding peacekeeping job on the Maidan Square.
Participants of the European Communications Convention were PR- and CSR-delegates from all over Europe. The Convention enjoyed the support of national PR bodies of more than 20 countries.
CONTACTS
Thomas Achelis

Organizer

Germany

thomas.achelis@communications-convention.eu

+49-89-4398420

+49-172-8938999

Christina Kahlert

Organizer

Germany

christina.kahlert@communications-convention.eu

+49 89 811 4619

ECC Information

Media Inquiries

Germany

info@communications-convention.eu

+49 89 4398420

+49 172 8938999
MORE FROM ECC HISTORY
SUBSCRIBE TO RSS FEED
XML